Audrey Balderston Presents her Flowers to the Weston Church
Audrey Balderston Presents her Flowers to the Weston-Super-Mare Church
The Weston church was pleased to welcome Audrey Balderstone to share her beautiful floral displays and spiritual message.  The church was also pleased to welcome, Pat Walton, who was assisting her.  Audrey has a unique flair and love of flowers and for her Saviour which was obvious as she lovingly placed the flowers into the arrangements.  At the same time she was able to talk about Jesus and the Christian life.


Audrey's love for flowers has led her to festivals around the world as well as in this country. Her displays have also earned her a gold medal at the Chelsea flower show.


Her talk was based on a quote from Polonius from Shakespeare's Hamlet: 

This above all: to thine own self be true,
 And it must follow, as the night the day,
Thou canst not then be false to any man.
Farewell, my blessing season this in thee!


From this she was able to share a message of caring for others and at the same to be true to one's self.  She shared some interesting snippets about the flowers she so expertly put into different arrangements with special meanings.  She held up a carnation, which had been used the previous week when she visited Ireland, so it wasn't completely fresh.  After massaging the carnation on the outside and breathing over it the flower amazingly revived.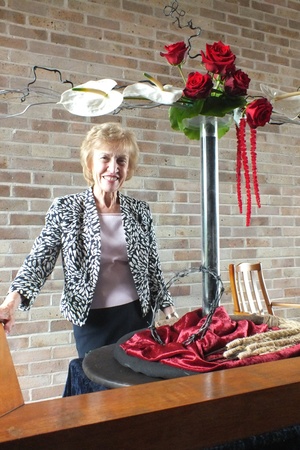 It was intriguing to watch as her creations told a story and gave a lesson on the way we should treat people, even the prickly ones.  She said that each flower made her think of the many characteristics of people and life situations and the importance of all of us being directed by the spirit of God.  She pointed out that we shouldn't be too quick to judge others and not to have a haughty attitude.  With this she held up a flower called Strelitzia Reginae also known as the Bird of Paradise.  She said that this flower represented a haughty appearance and how it was necessary for this flower to be in contact with water on the journey.  And that is how we must be, only always in contact with Jesus.


Another arrangements was based on the beauty of Dorian Gray.  For this there was a line of roses to illustrate his beauty.


The star of the display was a cross with long arms to represent God's grace and lilies Christ's hands. The vertical line was shorter and was made of willow painted black.  As this arrangement was being created the music 'Turn Your Eyes upon Jesus' was played in the background.


The congregation learnt a lot about flowers and also received a spiritual lesson at the same time.  The day finished with an excellent finger buffet prepared by the ladies in the church.
---
PHOTO GALLERY