Taunton Baptism is held at the Weston Church
On Sabbath the 23rd of May, the Weston church was pleased to welcome members of the Taunton Church and to witness a baptism of three of their members and t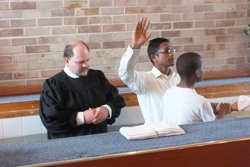 wo people who re-affirmed their Profession of Faiths. The Candidates were warmly welcomed to the Taunton Seventh-day Adventist family. The service was led by Pastor Sam Gungaloo and was assisted by Pastor Wayne Erasmus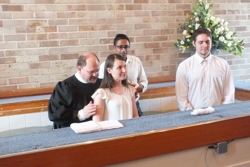 The first person to step into the waters was EdMicael Pires who was only 12yrs old. It was said that this young man has a mind far beyond his years and he worked his way through the Bible studies with ease and vigour and he was very happy to reach this momentous occasion.
A young South African-British couple, Jared and Hayley Kinnear, stepped down into the water next and sealed their total commitment to Christ. Their family members fought through eight hours of driving traffic to support them. The candidates where blessed to have a Bible study journey with the help of three Pastors! Pastors Wayne Erasmus, Julian Thompson and Sam Gungaloo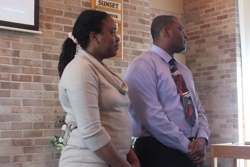 The final two new members were EdMicael's parents, Emanuel and Dihauara Pires, from São Tomé. The Bible tells us that a child shall lead and this is what happened on this occasion. The church joined them in full support as they re-affirmed their faith".